To save or not to save
Back in 2011, right after the introduction of OSX Lion, I wrote:
Resume, Versions and Auto Save are features so needed, they should have been built in modern operating systems years ago.
Indeed, it would have been better Auto Save (incl. Versions) were the standard for years. Then I wouldn't face the problem I'll explain to you in a second.
I still brace Apple for their efforts to get rid of saving altogether and try to brake with the old, archaic concept of hitting that save button every 2 minutes, just in case.
But what I didn't foresaw back then, were all the problems this concept brings. If you want to know the details, go and read this in-depth review from Matt Neuburg. To sum it up, a lot of problems occur because every PC/Mac user with the tiniest amount of knowledge has already internalized the mental model of "only when I hit the floppy disk symbol, my work is preserved." E.g. people have the habit of experimenting with existing documents with the fall-back mechanism of not saving the changes they made when closing the document. This is not possible with the new way.
Now it's 2012, the year of Mountain Lion, and I am still struggling how to handle my document-saving-model-system: The old fashioned-way or the way Apple intends it to be. It comes down to two choices.
Go the Apple way (leave Mountain Lion on its default settings):
Applications that support the new model will save document states without additional action, at frequent intervals the OS creates "versions" to which one can return to in case something went wrong. Opening a document will bring you the exact state you left it in the last time. (good)
As noted in the article, you need to think about saving

before

you do changes to your document, reversing the mental model you are used to. (not good)
Developers need to built support for Auto Save right into their apps. The most-popular office suite from Microsoft has still not followed the lead. (potential dealbreaker)
It works only on HFS+ formatted hard drives. (bad)
This all means, to be sure that your files are save, you need to understand how the system works. The fact that Neuburg's article is over 3,000 words long should give you a hint about the learning curve involved.
Try the more-or-less traditional way (by flipping two checkboxes):
You can't turn off Auto Save completely, there is no way to go to a Microsoft Windows-like state. (bad)
Closing an altered document brings up the familiar dialog "Do you want to save changes?" (good)
Documents will not be opened again (resumed) automatically the next time the application launches. (neither good or bad, just less confusing)
Despite that, the common "Save As"-command does not work like "expected" - changes in the original document are saved, too. (bad)
Behind the scenes, OSX still creates versions. (good)
The last point is important. It gives me some of the advantages from the new model without all the traps. And there you have my decision.
Probably you noticed that both ways don't satisfy me, but at least Apple has backtracked some of the worst parts of Lion and showed a will of "correcting" itself, which gives hope that one day we will live all the benefits which were promised in the first place.
There is a good chance you've already watched the tretralogy "Everything is a Remix" by Kirby Ferguson.
The docu does a very good job at showing how new advances in technology, music and movies build on each others creative works, how our society as a whole benefits from this, and why our stubborn legal system can't deal with it.
If you haven't seen the series yet, here's the best chance to catch up. I re-edited ("remixed") the four parts and some of the extended material into one big piece without repetition for fluent watching.
If you like the thing, you should give Kirby credit.
Online Music Phase II
When I was younger, much younger, I always had this idealistic technological day-dreams about how a better tech-world could look like.
One of them was about the perfect file format for music. Of course it would contain all the metadata like lyrics, BPM, or crowd-sourced genre information. While on pause it would display the cover art, while playing it would show the video (only on devices with screens that support it and only if there would be a video available).
The reason I'm thinking about this now is the recent shutdown [1] of Grooveshark in Germany, which leaves a hole unfulfilled: Rdio, Napster or simfy stream music to you as much as you want, but let's face it, because of the costs of round about 10 €/month they shut out a lot of customers, which aren't that music-savvy. Spotify offers a free version, but it's also not available in Germany and it needs the desktop client.
Even if you could afford the money, a ne plus ultra-solution looks slightly different. We already see labels withdrawing their music from streaming services due to low income. And if you would want to share a tune with a friend, you have to watch out if he/she has also a subscription on this specific service.
The hypothesis: YouTube is the best player in the field to fill this gap. They already have the reputation to be the best site to play music. Let me repeat: Even not intended by the YouTube founders, it became the 1st place young people go to when they want to play their favorite song on a party or even at home.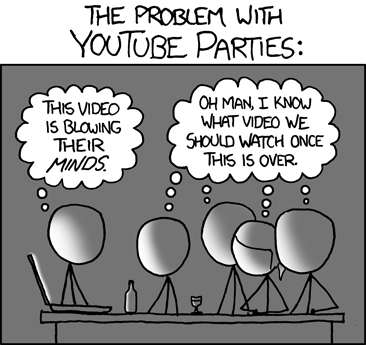 The striking difference between Grooveshark and the YouTube of 2012 is the simple fact that a huge portion of uploaded content is legal, meaning uploaded by the artist or label themselves. Only in addition, you get a lot of fan-uploaded tracks (with often rare material). It would be interesting to see how the music catalogue of YT compares with the one from e.g. Spotify.
And it seems I'm not the only one with this thinking. Take a look at Cantio. Basically the service leverages the YT music library and wraps it into an audio player interface.
There are other services that try to do the same, but Cantio is the most promising  because:
it has good UI design
it has its own Radio mode (based on genre)
it lets one import playlists (in M3U format)
it has easy sharing with custom short URLs built right in
it has keyboard shortcuts (a hooray for the nerds)
What I miss is the integration of other services: First and foremost Vimeo or Dailymotion - because they don't have the same strict DRM system like YT in place (yet) - and audio-only services like SoundCloud or the HypeMachine.
Nevertheless, I found my Grooveshark replacement.
---
[1] I think the reason for the inevitable closing of Grooveshark is and will be the deja-vu to common services: Grooveshark looks exactly like an iTunes (or other music player of your choide) version on a webpage - but for free. This is the kind of radical change major labels will never ever agree with. Maybe that's also the reason why YT doesn't do something like audio.youtube.com on its own.